Warm Vietnamese Noodles with Cucumber & Lemongrass Chicken
By Create Cook & Share
4 serves

20 mins

20 mins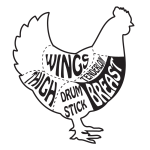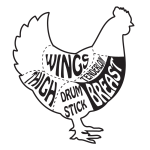 Chicken:
500g The Bare Bird Chicken Breast Fillets, cut in to 8 strips length ways
2 tablespoons extra virgin olive oil
2 tablespoons chopped lemongrass, the white inner part of the stalks
2 tablespoons soy sauce
2 tablespoons lime juice
1 tablespoon coconut sugar
2 garlic cloves, minced
1 tablespoon red curry paste
1 teaspoon ginger, grate
Warming Garlic Noodles:
250g rice vermicelli noodles
1 tablespoon olive oil
1 tablespoon butter
4 garlic cloves, minced
2 tablespoons soy sauce
1 tablespoon sesame oil
2 teaspoons chilli flakes
Cucumber Salad:
3 lebanese cucumbers, shaved length ways with a vegetable peeler
2 teaspoons rice wine vinegar
2 teaspoons sesame oil
1 teaspoon soy sauce
1 tablespoon honey
To Garnish:
Crushed peanuts (Nut free – toasted sesame seeds)
Fresh chilli sliced
Edamame Beans
Coriander and Mint
Carrot sticks
Wedges of Lime
Whisk together all the marinade ingredients in a wide bowl where you will marinade the chicken. Toss the chicken making sure it is evenly coated and marinade at room temperature for 15 minutes. In the meantime, prepare the noodles.
Prepare the noodles according to packet instructions, drain and set aside. Add to a pan the butter, olive oil and garlic and lightly sauté. Add the soy sauce, sesame oil, and noodles. Toss to combine well and top with chilli flakes. Cover pan to keep warm and set aside.
Heat a large skillet pan with some oil and add the chicken strips and cook for 2-3 minutes a side over a high heat. Allow to rest, covered to keep warm, for 5 minutes before slicing.
In the meantime, in a bowl, whisk together the sesame oil, rice wine vinegar, soy sauce and honey. Pour over the cucumbers and garnish with crushed peanuts.
Bring altogether by arranging the warming garlic noodles, topped with slices of chicken, cucumber and suggested garnish.
Meal
Inspiration
Ideas
Take a look at these recipe ideas or have a browse through our whole range of meal inspiration ideas.