Spicy Nicey Wings (Or Drumsticks)
By Ray Capaldi
4 serves

10 mins

35 mins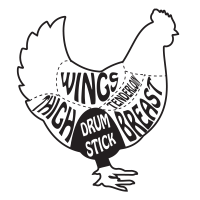 2kg chicken wings (thigh fillet and drumsticks can also be used)
80ml honey
150ml soy sauce
150ml orange juice
60g tomato sauce
60g chilli sauce
Add to taste:
4 large garlic cloves, minced or finely grated
1 tbsp ginger, peeled and finely grated
Preheat the oven to 160°c.
In a bowl, whisk together all the marinade ingredients: honey, soy sauce, orange juice, tomato sauce and chilli sauce,
Then marinade the chicken and refrigerate.
Take a deep pan, add the chicken pieces, then place in the oven for 35 minutes (adjust based on chicken portion used), until golden brown. If the sauce is still too runny, place on the stove and reduce, serve garnished with herbs of your choice.
Chefs notes: If using chicken drumsticks, you can French trim the drumsticks to give a better grip for your guests to hold.