Lemon, Honey Pepper Drumsticks
By Ray Capaldi
6 serves

20 mins

30 mins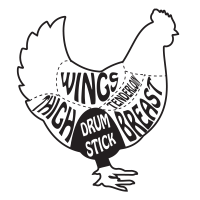 6-8 Bare Bird Drumsticks
200g honey
100g cherry vinegar
50g sugar
3 tbsp black peppercorns
75ml lemon juice
Water as needed
1 lemon cut into wedges
Mix vinegar and sugar in an ovenproof pan on stovetop.
Bring to boil and reduce until large bubbles disappear.
Add honey and peppercorns.
Reduce to a syrup, then add drumsticks. If mix is too sticky, add water.
Reduce further and coat drumsticks.
Place pan into oven pre-heated at 180C for 20-25 mins.
Remove from oven, allow to cool for 5 mins, and serve with fresh lemon wedges.