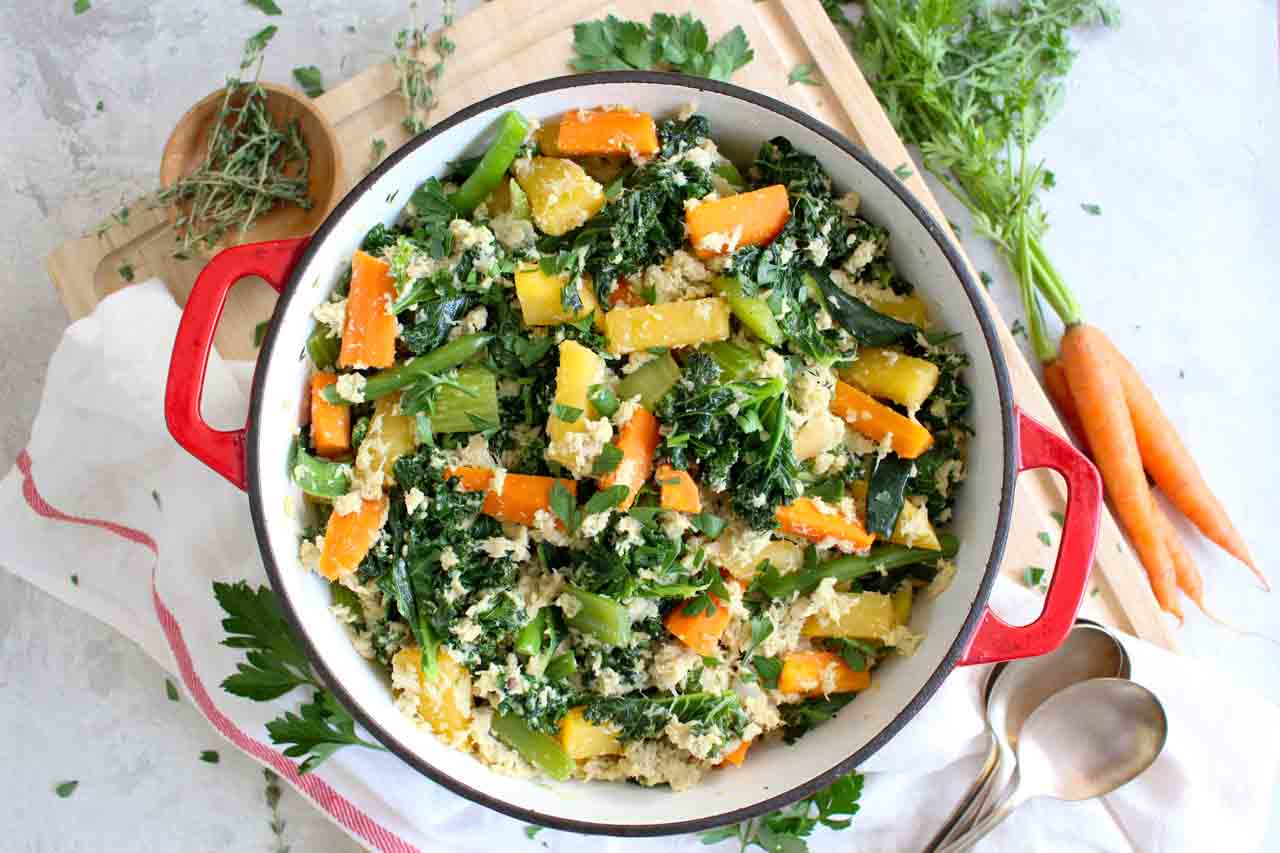 Hearty Chicken Stew
By SoleFire Wellness
6-8 serves

30 mins

7 hours
1 whole Bare Bird chicken
250 mL (1 liquid cup) chicken bone broth
2 tablespoons extra-virgin olive oil, divided
3 zucchinis, peeled (reserve peels), roughly chopped
1 onion, chopped
2 large swede, chopped into bite size pieces
3 stalks celery, chopped into bite size pieces
3 carrots, chopped into bite size pieces
6 sprigs fresh thyme
2 teaspoons Herbamare or fine sea salt
2 cups green beans, ends trimmed and roughly chopped
1 bunch kale (optional)
Fresh thyme and parsley for garnish (optional)
Night before or morning of, put whole chicken in crockpot and cook on low for 7-10 hours.
Pick chicken meat from bones, reserve meat, strain broth into a glass container.
Heat 1 tablespoon of olive oil in a large soup pot or casserole pot over medium-high heat. Add the chopped zucchini (except peels) and sauté, stirring frequently until tender and lightly browned, ~5 minutes.
Remove zucchinis from heat and transfer into a blender with 1 cup chicken bone broth and Herbamare/salt, blend until smooth, set aside.
Heat the other tablespoon of olive oil in your pot over medium-high heat and add the onion, sautéing until browned, 5-7 minutes. 
Now add the swede, celery and carrots, stir to mix through. Add the zucchini-broth puree to the pot and reduce heat, simmer uncovered for 10 minutes, stirring occasionally until the veggies begin to soften. 
Add the chicken, green beans, zucchini peels (zoodles) and kale (if using) to the pot, stir through, cover and cook for 8-10 minutes, or until beans are tender and kale has wilted. 
Remove thyme sprigs before serving and top with additional fresh thyme or parsley if desired. Take a moment to appreciate the aromas of your stew and enjoy!
Serving Suggestion: 
Serve with a generous drizzle of olive oil or some sliced avocado if desired.