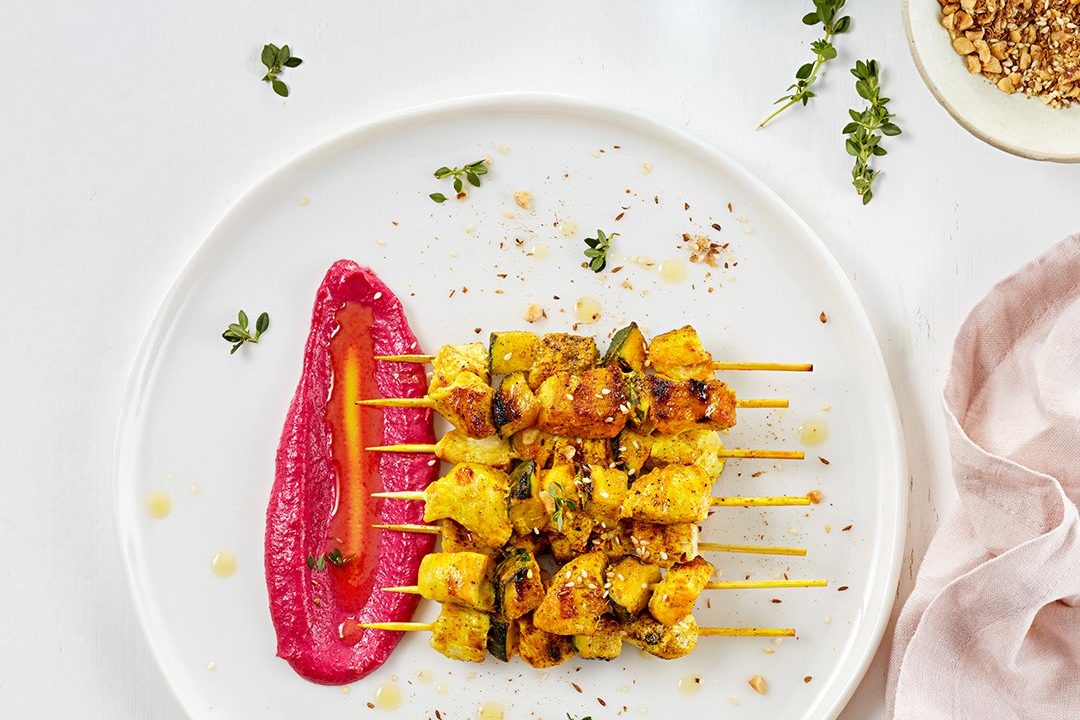 Dukkah Spiced Chicken Skewers with Roast Beetroot Tahini
By Lance Rosen
4 serves

20 mins

80 mins
400g diced or strips of Bare Bird chicken breast or thigh fillet
2 large zucchinis, diced into cubes
2 tsp turmeric
2 tsp ground allspice
2 tsp salt
4 tsp dukkah (or coarsely ground hazelnuts mixed with sesame seeds and some ground cumin)
Lemon thyme leaves
1 large beetroot
1.5 c tahini
Juice from ½ lemon
¼ c lemon flavoured olive oil
¼ cup of water
Salt and pepper to taste
Wooden skewers
Wash and wrap the beetroot in a double layer of silver foil with a sprinkle of salt and a splash of water. Roast beetroot at 200C until soft, for around 1 hour or until a paring knife or skewer can pierce the beetroot without resistance – don't be tempted to use tinned beetroot.
Allow the beetroot to cool – this step can be done a day or two prior and kept in the fridge.
To make the tahini, peel the beetroot with a knife and place in a food processor. Stir tahini well and add it to the beetroot mixture in the food processor. Add lemon juice, and one tablespoon of lemon olive oil. Blend ingredients together, adding water slowly until the paste is the consistency of thick cream. Add a pinch of salt and adjust the seasoning to suit your taste. Reserve the beetroot tahini until required.
Thread zucchini and chicken evenly onto the skewers. Sprinkle the skewers with turmeric, allspice and salt, seasoning all sides.Drizzle the skewers with 1tbsp lemon olive oil.
Heat a BBQ, grill or frying pan until hot, add the skewers, and cook until beautifully caramelised on each side.
Sprinkle the skewers with the remaining olive oil, dukkah and lemon thyme.
Serve with the beetroot tahini and some bread for dipping.