Chicken Shank Tart
By Raymond Capaldi
2 serves

20 mins

50 mins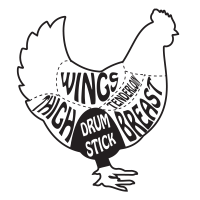 2 The Bare Bird chicken drumsticks
Olive oil
1 white onion, diced
100g diced Kent pumpkin,
chopped
Salt & pepper, to season
¼ head broccoli, cut into florets
60g miso paste
50mL rice-wine vinegar
1 sheet puff pastry
50g cashew jam
1 egg, beaten, to wash
50g unsalted cashews,
to serve
Preheat oven to 200°C.
Drizzle olive oil in baking tray, add onions and pumpkin then
season with salt and pepper. Roast for 15 mins, remove and reduce
heat to 180°C.
Blanch broccoli florets. Mix miso paste with rice-wine vinegar and
add to broccoli.
Roast chicken drumsticks in oven for 25 mins. Set aside.
Cut puff pastry with knife using plate as template. Then, using the
back of knife and going anticlockwise around pastry, shape with knife
to help it rise evenly.
Spread cashew nut jam on middle of pastry, egg wash pastry sides
then place roasted drumsticks, pumpkin, onions and marinated
broccoli on pastry.
Cook in oven for 15 mins.
Remove from oven and serve with cashew nuts and extra
cashew jam.