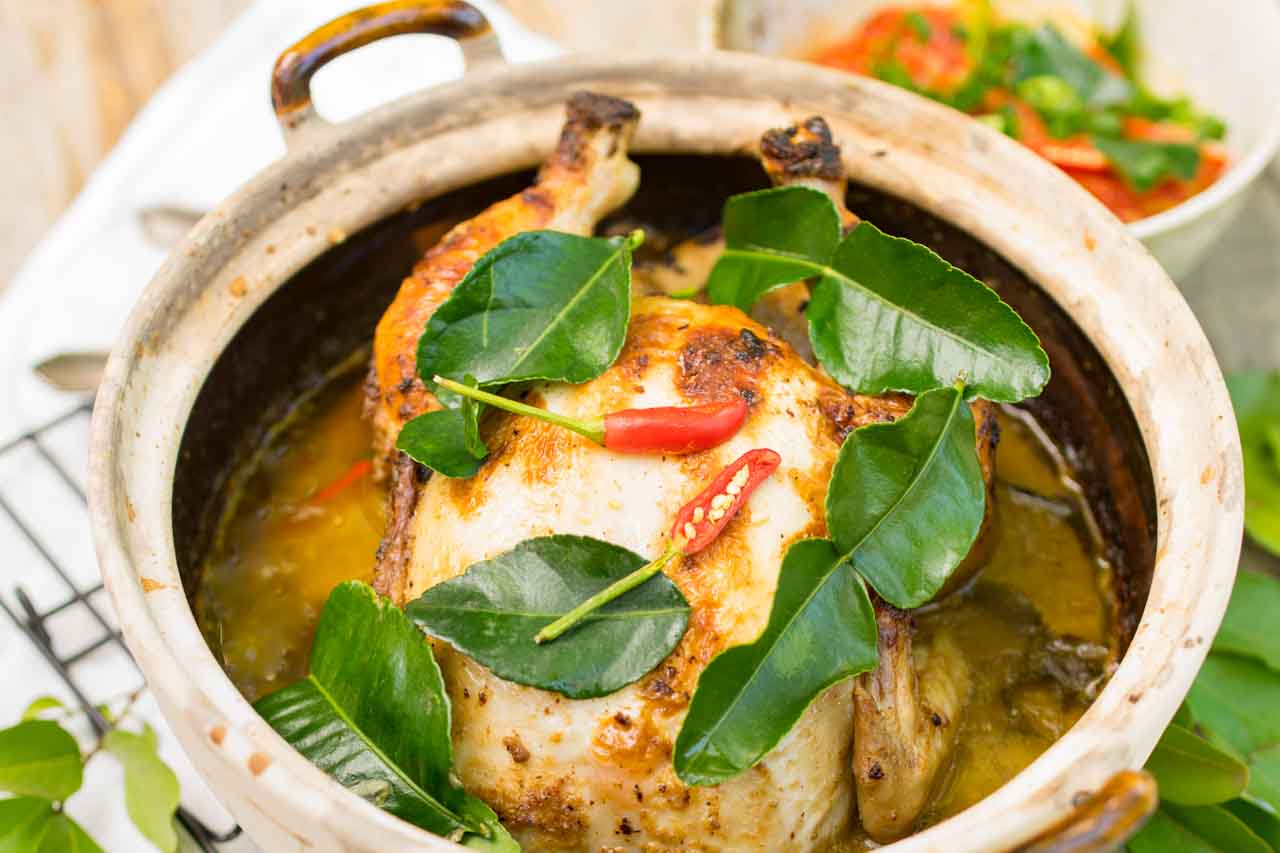 Braised Whole Chicken with pineapple & tomato hasselback
By Ray Capaldi
6 serves

20 mins

60 mins
Braised Whole Chicken
2 cloves garlic
3cm knob ginger
4 large stalks lemongrass
8 kaffir lime leaves
1 small jar good-quality Thai green curry paste
1 whole The Bare Bird Chicken
1.5 tin coconut milk
Braised Tomato & Pineapple Hasselback
1 whole pineapple, peeled & cut into quarters
3-4 large tomatoes, halved & sliced
Salt & pepper, to taste
Fresh red chilli
½ bunch coriander, chopped
In a mortar and pestle or food processor, crush the garlic, ginger, lemongrass and half the kaffir lime leaves. Mix with Thai green curry paste, then rub into the chicken. Put any excess into the chicken cavity and rub in well.
Marinate it for at least 1 hour but 24 hours is best.
Pour whole tin of coconut milk into bottom of a Chinese clay pot. Add marinated chicken and cook in oven at 180°C for at least 45 mins to 1 hour.
While chicken is cooking, make the hasselback: add slits to the pineapple and slide tomato slices in.
Place pineapple/tomatoes in hot frying pan, root side of pineapple facing down and tomato facing up. Add salt, pepper and chilli. Cook gently in frying pan for 10 mins, then add ½ tin coconut milk and cook for a further 5 mins. Serve with chicken, topped with sliced chilli,kaffir lime leaves, and chopped coriander.
Once chicken is cooked, remove and gently cut with a spoon. Spoon the meat or gently tear to serve.