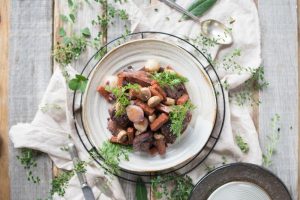 Baked red wine chicken with chorizo
4 serves

30 mins

70 mins
1.3–1.5kg The Bare Bird Whole chicken, cut into "sauté cut" or eighths
50ml Olive Oil, for browning
Salt
500mL good red wine
2 small whole carrots
2 whole onions
2 cloves garlic
6 sprigs thyme
Garnish
12 whole baby shallots, peeled
12 pieces gluten-free salami, cut into sticks 1cm × 4cm
12 whole button mushrooms
Lay chicken pieces on paper towel and pat dry. Place oil in large pan and sprinkle chicken with salt on both sides. Brown chicken pieces in batches in single layer for about 5 mins, turning to brown evenly. Remove chicken breasts before drumsticks and thigh pieces. Brown until all chicken is done. Set aside.
Bring red wine to boil. Cool, then pour over chicken pieces. Place in fridge overnight or for at least 2 hours to marinate.
Remove chicken from wine mixture and place in casserole dish. Add carrots and onions, cooking over medium heat for 10–12 mins, stirring occasionally, until onions are lightly browned. Add garlic and cook for 1 more min, then add chicken and any juices that collected on plate.
Add wine, chicken stock and thyme and bring to simmer. Cover pot with tight-fitting lid, braising on low heat for 30–40 mins. Remove chicken and vegetables, then pass sauce through fine sieve. Pour back over chicken in another pan, add olive oil then baby shallots. In medium sauté pan, add salami sticks, sauté until golden brown, then add mushrooms and cook over medium–low heat for 5–10 mins, until browned. Add back to chicken stew.
Bring stew to simmer and cook for another 10 mins. Season to taste and serve hot.